In Chinese, "Foo" means happiness, prosperity, and abundance.
For Bengalureans, Foo is the new kid on the oriental block, a restaurant that puts an Asian twist on Spanish tapas while promising a little and a lot of flavor from everything.
But for Ryan and Keenan Tham, Foo is all that and more.
The third-generation restaurateur brothers were recently in Bengaluru to open Foo's city counterpart, a restaurant they conceived in Mumbai in 2018. "This is our eighth branch. So Foo was really lucky for us!" says Keenan, the younger of the siblings.
The Tham family has long been associated with the Indian food scene. Ryan and Keenan's grandfather, Tham Mon Yiu, founded the Kamling and Mandarin restaurants in Mumbai almost 65 years ago. Her father, Henry Tham, opened a fine-dining restaurant of the same name in the early 2000s. Today, his sons are the names behind popular establishments like The Good Wife, Koko and Foo.
After filling tummies and hearts with seven locations in Mumbai, Foo, the Asian tapas restaurant, has finally entered the Bengaluru F&B scene. It makes an impact, right from its iconic location, Forum Rex Walk, off Brigade Road, to its blooming crimson interior and color scheme.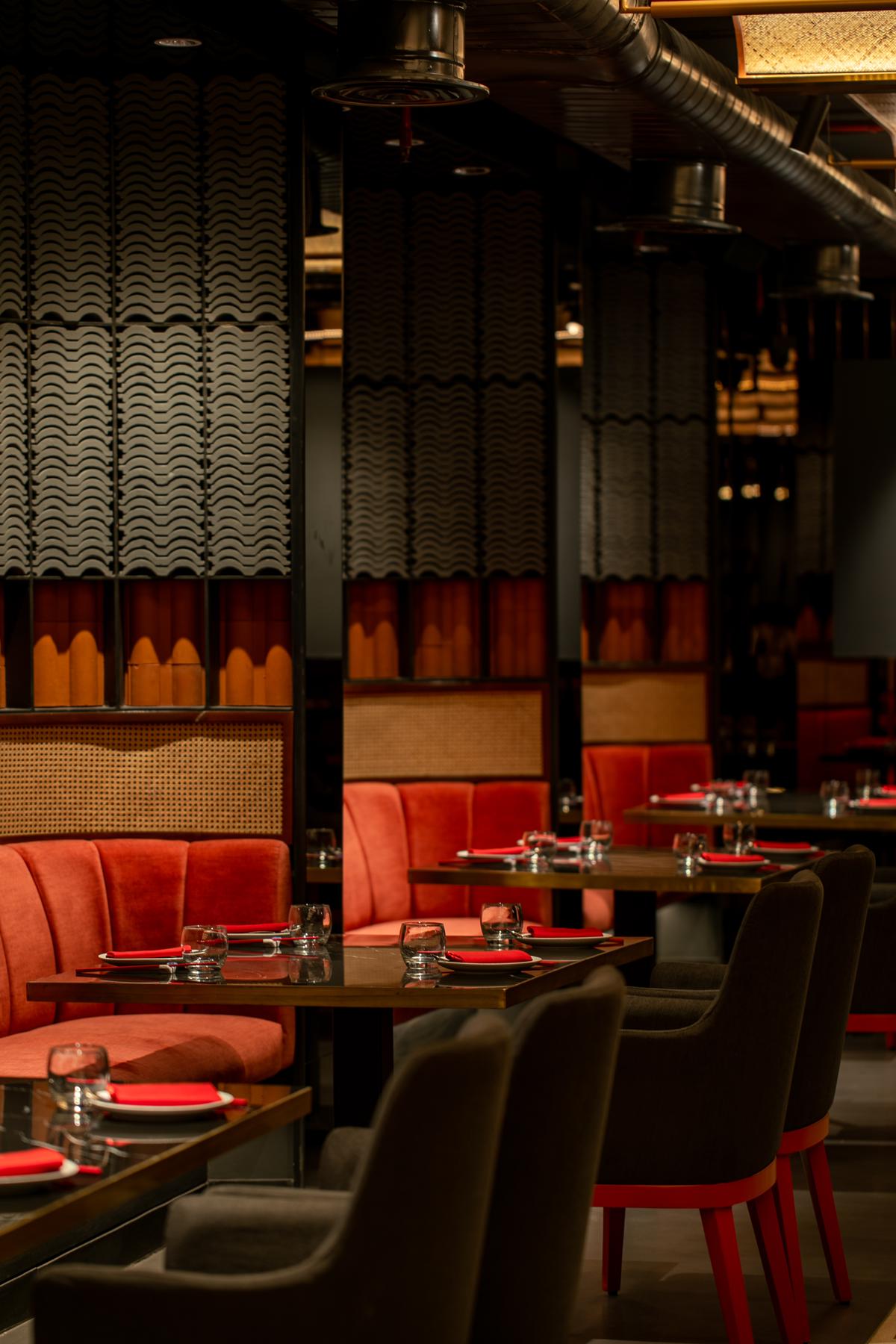 Decor at Foo | Photo credit: Assad Dadan
A wise choice because not only does the location instantly transport you to Chinatown, red is popularly said to whet your appetite. And at Foo, it's best to come on an empty stomach to fully appreciate the menu. With over 140 dishes on the menu, there is something for everyone, whether vegetarian, gluten-free or Jain.
Tapas are popular in Spanish cuisine and include small dishes or appetizers that are best paired with drinks. Recreating the experience of sushis, dimsums, baos and more, Foo was born from a desire to promote the idea of ​​a group of three people trying six to seven dishes in comfort without burning a hole in their pockets.
Go with The Wasabi, Truffle & Edamame Dumpling, and Foo Yam Bean Uramaki for starters. Don't be fooled by the former's unassuming appearance, it packs a punch and will have you yearning for seconds. The latter is as easy on the eyes as it is on the stomach, as it uses blue rice. Skip the Crystal Dumpling and opt for the Lotus Root instead, and if you fancy a different sushi, give the Shisoto Charcoal Tempura Uramaki a shot. Meat eaters can enjoy the Charcoal Har-Gow or the Salmon Ceviche.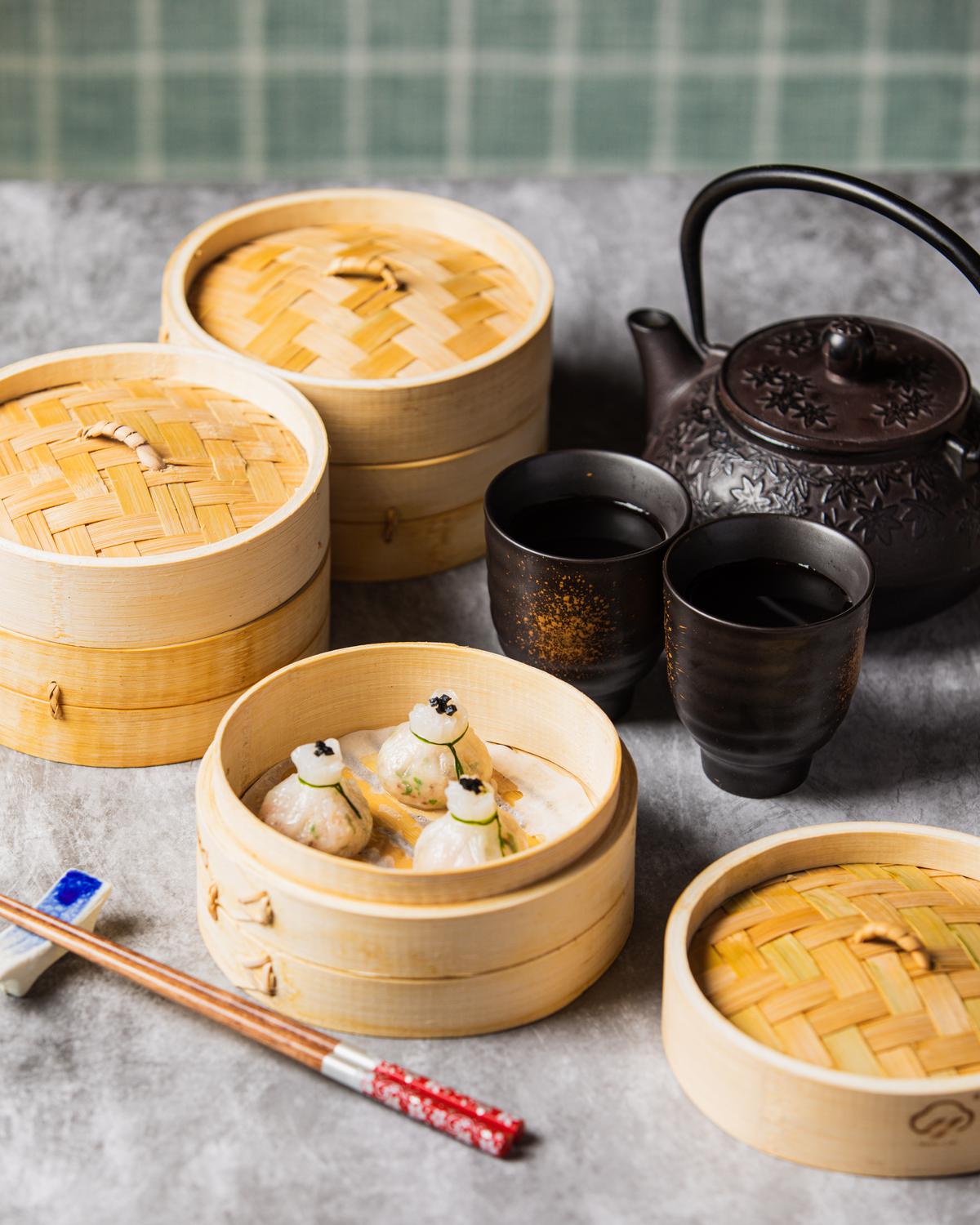 Dumplings at Foo
A visit to Foo can not only get your taste buds tingling, but your brain cells too. For the culinary curious, the menu may introduce Nikkei – a Japanese-Peruvian combination of technique and ingredients. Non-vegetarians will find proof of the custard in the ceviche, while vegetarians can try the Nikkei Avocado Uramaki instead. For those unfamiliar with the terms, the restaurant's team is happy to help deconstruct the tasting.
Each outlet of the brand also presents something unique. While some Foos are smaller, accommodating 75 guests, the Foos in Bengaluru comfortably accommodates 120 guests with its first split-floor model. Another first at this outlet: a private dining room with seating for 18, perfect for group gatherings or family reunions.
The second floor also features a chic and shiny bar with an eclectic selection of drinks. There's a wasabi margarita, a miso sour (whiskey with miso caramel, yuzu, shisho brew, and lime), and their signature Foo King, which pairs vodka with plum liqueur, musk melon, lemon, and French vanilla. Linger here for a relaxing after-work drink and the experienced hands behind the bar will keep you entertained with their bartender flair. The counter is appropriately positioned alongside its picturesque Japanese cherry blossom decor. Truly the perfect backdrop for those Instagram-worthy photos of your drink. The Gauva Togarashi Fizz and sparkling Yuzu Mojito are also worth snapping up if you're indulging in a non-alcoholic work lunch.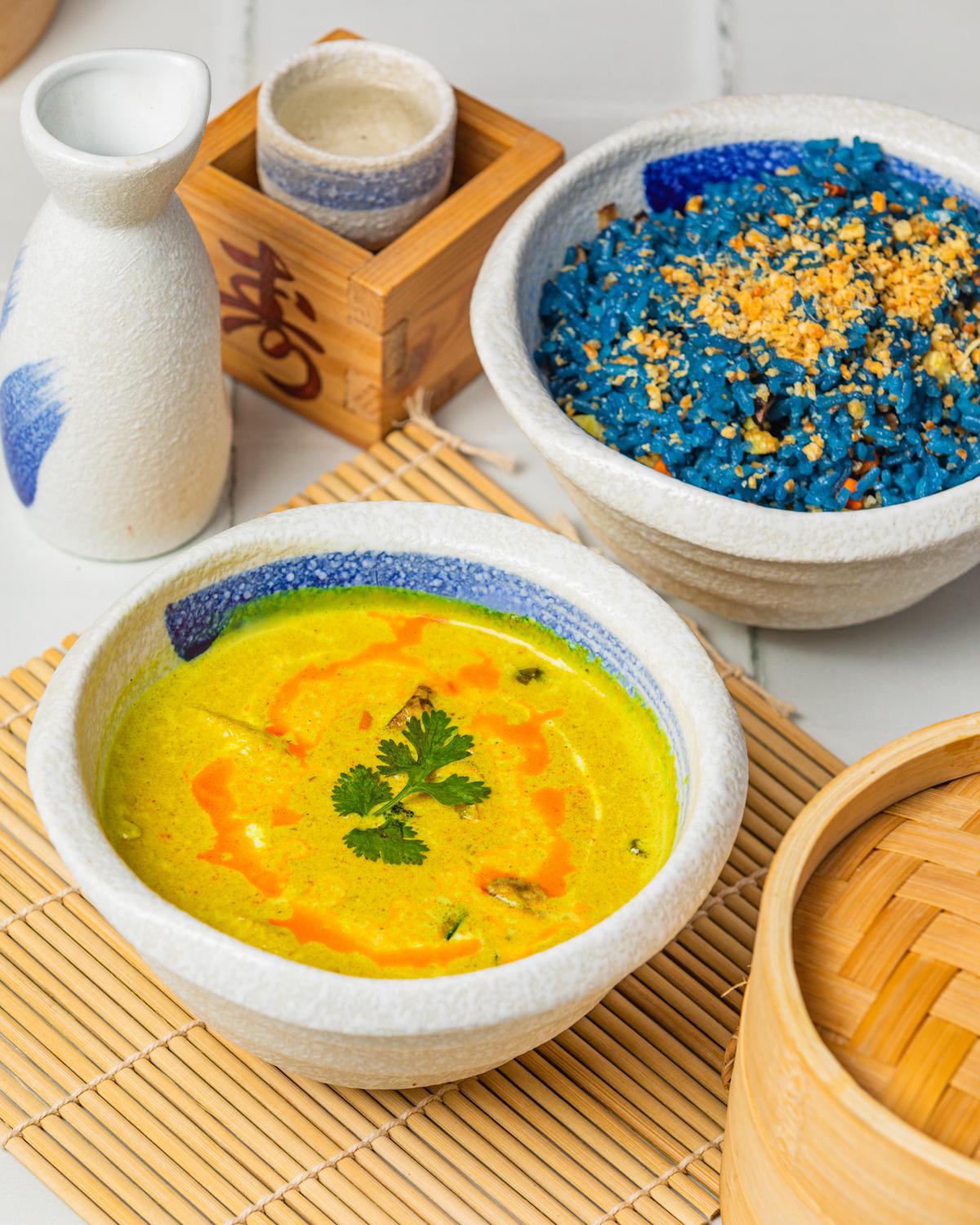 Foo Yellow Curry and Blue Butter Japanese Fried Rice
The aesthetic appeal doesn't stop there. While the small plates are definitely the star, the main course also puts up a fair fight. Between drinks and tapas, if you still don't mind, opt for the Foo Blue Butter Japanese Fried Rice. It goes well with the Foo Yellow Curry. The kitchen team, led by Executive Chef Eric Sifu, is a riot of color and flavor, has played around with butterfly pea flowers for the sky-blue hue, and the curry combines chestnuts, broccoli and mushrooms. Buttered rice and a creamy curry, this dish screams comfort.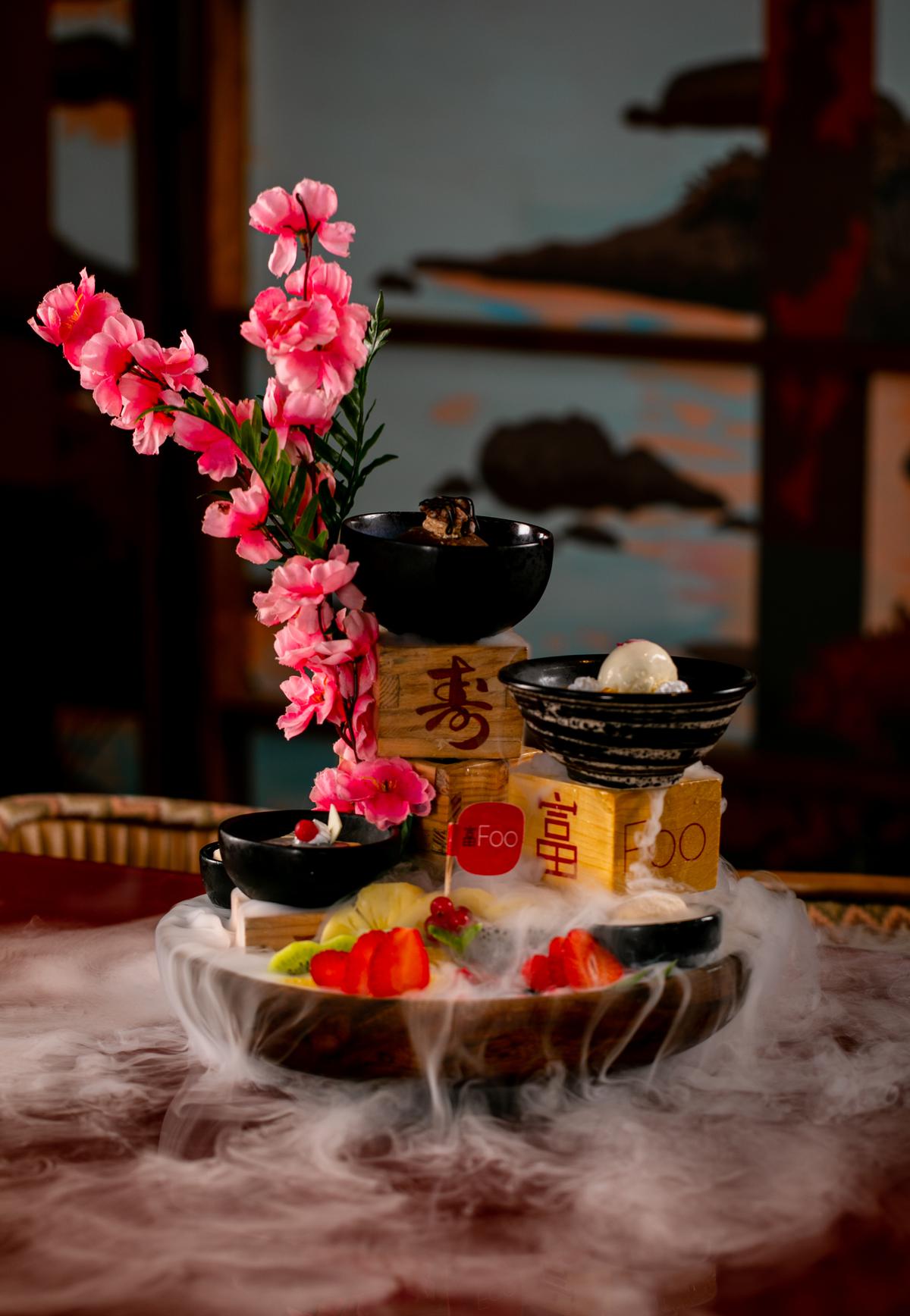 Mount Foo-ji | Photo credit: Assad Dadan
In desserts, the Black Marble Sesame Cheesecake is interesting and a testament to Chef Sifu's inventiveness. For larger groups or for fans of the drama, there's Mount Foo-ji, which certainly makes an entrance with flair and flourishes. Mount Foo-ji is a multi-tiered dessert encased in liquid nitrogen, featuring a vanilla-topped mango pudding, a sesame cheesecake, a hazelnut dome, and hazelnut and coconut ice cream. And for the health-conscious there is also freshly cut fruit on the plate. Aptly named, this one ensures an all-round sugar-sweet outburst of happiness.
Foo Asian tapas
Hits: Wasabi, Truffle & Edamame Dumpling and Foo Yam Bean Uramaki
Missing: crystal dumplings
Wallet factor: For two: ₹1500 + tax (excluding alcohol)
Foo Asian Tapas is located on the ground floor, Forum Rex Walk, Brigade Rd, Shanthala Nagar, Ashok Nagar, Bengaluru, Karnataka 560001