Social bookmarks are bookmarks on the Internet. They enable users to store interesting links together on one server and exchange them with one another.
How social bookmarking services work
In order to be able to create a social bookmark, free registration is required for most services. Once the account has been opened, individual URLs can be bookmarked. In addition to the URL, a title and other information such as tags are also typed into the input mask. After the social bookmark has been saved, it is also available to all other users worldwide.
Thus, the websites that are saved in social bookmarking services receive particularly high visibility on the web. Well-known services included, for example, Delicious, Digg, Mister Wong and Yigg. However, some of the services are no longer available or are now being used for other business models .
Features of Social Bookmarking Services
Social bookmarking services come with a variety of functions that users can use profitably to organize their own bookmarks and gather information:
Add, delete, comment and tag bookmarks

View and search other users' bookmarks

Adding interesting bookmarks to your own collection of links

Access lists of the latest or most popular social bookmarks

Track new bookmarks for specific keywords via 

RSS feeds

Organization of users in subject-specific groups

Import and export of created bookmarks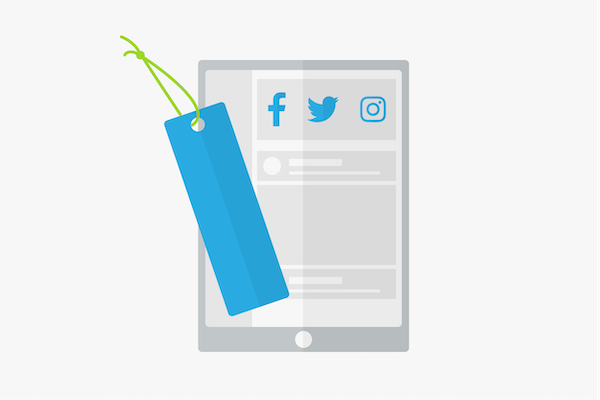 Benefits of Social Bookmarking
The great advantage of social bookmarks is that the information stored is available on any computer with internet access. QR codes can also be used for bookmarking. The stored information can be accessed from anywhere in the world. Data security is always ensured so that all bookmarks are retained in the event of a defect on your own computer. It is also advantageous to be able to access certain information quickly. The search in search engines often yields several million search hits. It is difficult to filter out the relevant information here.
On the other hand, in social bookmarking services, users recommend websites that contain high-quality information. This way you can quickly find the information you need when doing research. Another advantage is that the services are usually available free of charge and can be used without a limit on the number of bookmarks.
Example Delicious
Delicious is a social bookmarking service that was particularly popular in the early 2000s. Users can use it to save so-called "bookmarks", i.e. links to websites, in order to manage them as their own list of important Internet addresses like an address book. In addition, the portal works like a social network and users can view profiles of other users and adopt bookmarks.
Story
In 2003, web developer Joshua Schachter started his own bookmarking service called del.icio.us. He was one of the first to find such a web application. With more than a million users, the company was one of the largest of its kind in 2006. Due to the success of the bookmarking platform, many other projects of this kind were founded in quick succession.
Shortly before the turn of the year 2006, del.icio.us, as the service was then called, was taken over by Yahoo! accepted. In 2008 the website was relaunched and from then on it was simply called Delicious. Only four years later, the search engine provider Delicious sold again and in 2011 the YouTube founders took over the bookmarking service.
function
In order to use Delicious, the user must be registered and logged in. Bookmarks can be saved either via a browser plugin or directly via your own account. Today there are also apps for smartphones and tablets that can be used to save Internet addresses when surfing on the go. Delicious also allows links to be imported via Facebook or Google+. Likewise, bookmarks from browsers such as Firefox can be transferred to Delicious and vice versa.
To use
In the late 1990s, browsers had fewer features than today. For example, browsers like Fireball or Netscape Navigator could not save bookmarks. Users, therefore, had no direct opportunity to save and manage Internet addresses. With the establishment of bookmarking services, it was finally possible to call up one's bookmarks anywhere there was a computer with an Internet connection. Delicious still works in this way to this day.
Unlike a few years ago, search engine optimizers can no longer use Delicious for link building, but they still benefit from the link hubs that popular users have created on Delicious on the subject of SEO. In addition, the platform offers other advantages in everyday life:
easy exploration of interesting links grouped into subject areas

Central archiving of interesting, found links that you want to find again later

Summary of found links and offers in news feeds

Use as a list of links (e.g. in 

blogs

 )
Importance for search engine optimization
Social bookmarks offer the possibility of link building as part of search engine optimization. Every user can set links in any number here. Initially, links to a website originating from social bookmarking services were given great importance as a direct recommendation from a user. If social bookmarks are used to a natural extent in addition to other link-building measures, this can make sense.
However, social bookmarking services were quickly exploited as a spam opportunity. So an excessive number of backlinks to websites were entered, which pushed the actual benefit of the services into the background. The operators reacted to this by setting nofollow attributes in order to become less interesting for search engine optimizers. Gradually, countless social bookmark portals were set up solely for the purpose of improving the ranking of their own websites in the SERPs by setting bookmarks. Special social bookmarking tools made it possible to post one and the same URL on numerous different portals.
However, Google recognized relatively quickly the development that social bookmarking services were taking and created Google Bookmarks in 2005. The outgoing links of these portals were therefore devalued by Google. As a result, social bookmarks have largely lost their appeal for search engine optimization.